We will design and install hardscaping elments that will increase the outdoor living experience of your yard.
Increase the curb appeal of your residence with paving stone walk, driveway or patio. . Broderick Garden Centre will provide professional design and installation. We will ensure that the base is prepared and packed to provide a stable foundation to lay paving stones on.
Retaining Walls - Raised Beds - Garden Walls
Stone walls can be both decorative and functional. Raised beds and garden walls created with decorative stones can offer a beautiful focal point for your yard. A area to plant shrubs, perennials or annuals. A Retaining wall provides a beautiful way to create usable space in a sloped area. It will also help control erosion caused by run-off.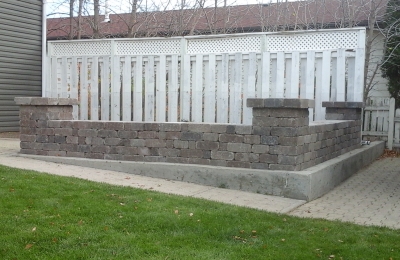 Decks and Fences
Our team will work with you to design a deck, fence, gazebo or other wood structure for your yard.
Landscape Brands
Rainbird
Barkman Concrete
Techo-Bloc
Borgert
Shercom
NDS
Products
Underground Sprinklers
Sod
Mulch
Edging
Paving stones
Garden Walls / Raised Beds
Retaining Walls
Trees, shrubs, plants
Drip Irrigation
Xerigation
 
Services
Landscape Design
Consultation
Landscape Installations
Hardscape Designs
Hardscape Installations
Pruning
Tree removal
Contract Yard Maintenance
Mowing
Power Rake
Aeration
Lawn Spray
General Yard Cleanup